Britsoft reviews
Dec 27, 2016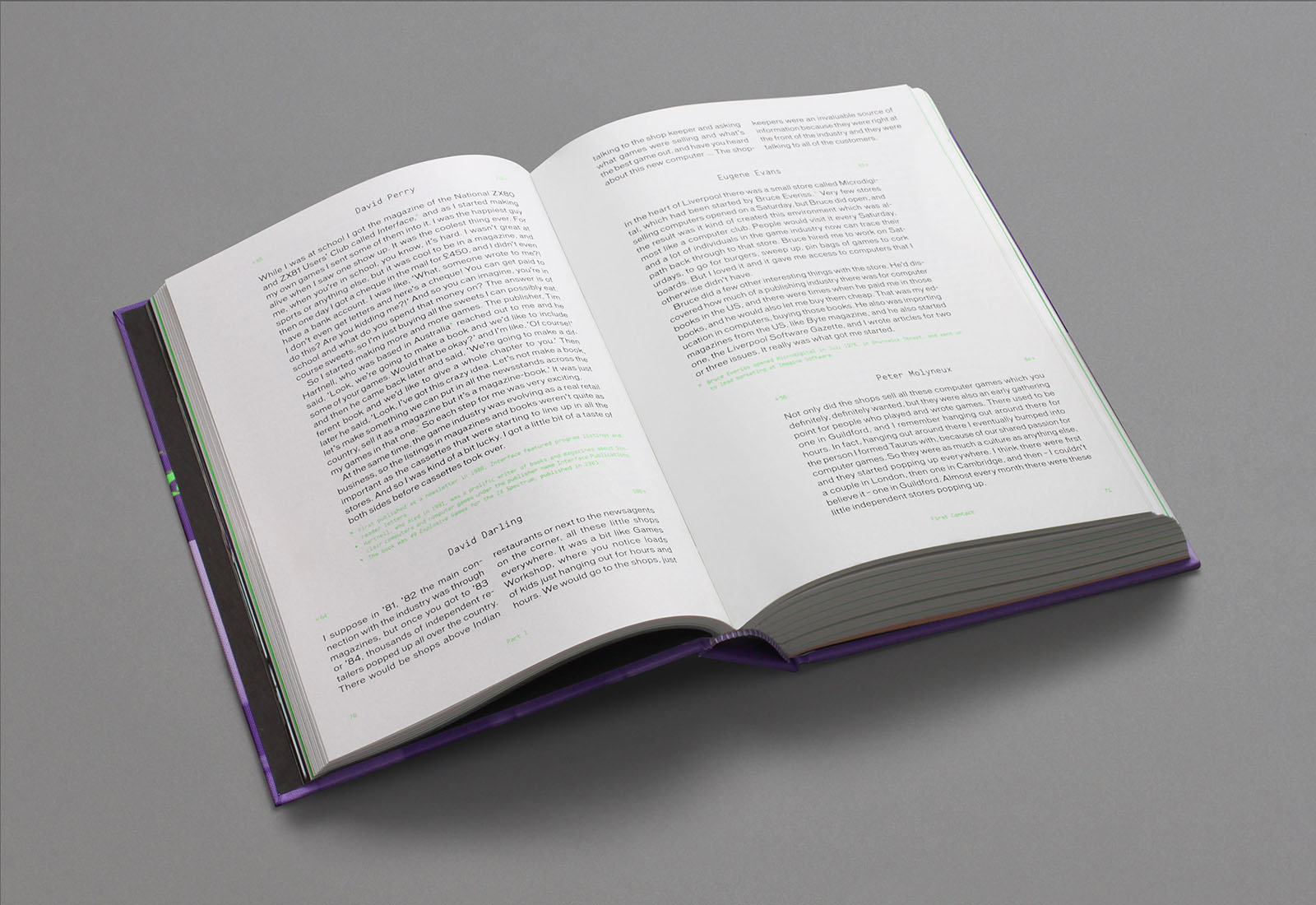 So, OK, Britsoft: An Oral History came out a very long time ago now. Since then, Read-Only Memory has published a whole new book, the fantastic The Bitmap Brothers: Universe. OK, sure, it was written by my good chum Duncan Harris and published by my friend publisher Darren Wall so maybe I would say this, but it really is a detailed, beautiful, insightful and fun book about an important group of game makers at a remarkable and formative time for the medium.
Anyway, hopefully it's not quite too late to cite some reviews of Britsoft. People said wonderful things, and really got what we were trying to achieve. That means a huge amount.
Dan Whitehead at Eurogamer said it is:
chunky, exhaustive and academically robust … By opting for a more conversational, and occasionally confessional, style the book manages to be intimate and fun, even when discussing aspects of the business that should be dry and tedious. If you have even a passing interest in the chaotic and ingenious seeds that sprouted into the games you play today, this belongs on your shelf.
And he appreciated the way it's all laid out in small but linked excerpts. What he liked was exactly what I was trying to achieve!
Keza MacDonald at Kotaku said in a roundup of the best books about videogames of 2015:
Anyone with an interest in the British games industry at that time would appreciate this
Ryan Lambie at Den of Geek said in an incredibly glowing review:
Pick a page, any page, and you'll find something funny, strange or informative … That Britsoft is so easy to dip in and out of is largely down to the clarity of its layout … As a snapshot of a moment in time that will one day fade from living memory, Britsoft is an essential purchase.
Damien McFerran at Nintendo Life called it:
lavishly produced and a genuine joy to read
Chris Plante at The Verge said:
The book is exhaustive, much like the creative process. Editor Alex Wiltshire does a commendable job of organizing over 400 pages of transcripts and art in a way that isn't overwhelming; its a joy to pick at from any angle rather than pushing through from beginning to end … In a world where works of art are delivered to our doorstep or hard drive fully formed, it's helpful to have a reminder of what it takes to create something: blood, sweat, tears, tears, tears, and more tears.
Georgina Young at TechRaptor said:
Endless hours of interviews do not lend themselves well to the text format, but editor Alex Wiltshire makes it work surprisingly well. Not only does he break it down chronologically so that you can see how the industry has evolved over time, but also by theme, linking similar anecdotes on making music, mail order, or BASIC programming etc together. There is a lot of technical jargon but stories are told simply so that even someone with almost zero knowledge of how to develop games, e.g. me, can understand.
Jamie at Retro Video Gamer said:
at £30 this is not a cheap book but it's worth every penny
Stevie Gill at The Cake is a Lie said:
it's certainly a hefty tome; the minimalist layout, purple and green colour scheme, and tinted monochrome photos brings to mind a 1980s school textbook, which I presume is the intended effect. Yet it's a enjoyable and effortless read. The style is light and conversational, and the recollections are broken down into easily digestible chunks, frequently switching between interviewees to keep it fresh. While the accounts themselves are satisfyingly articulate, intelligent, revealing and to the point (no doubt the result of some skilful editing).
Hey, maybe all this gives me a hankering to get on a new book project…