I really like Naoya Hatakeyama's Blast series of photographs. I've had the following as my desktop background for months.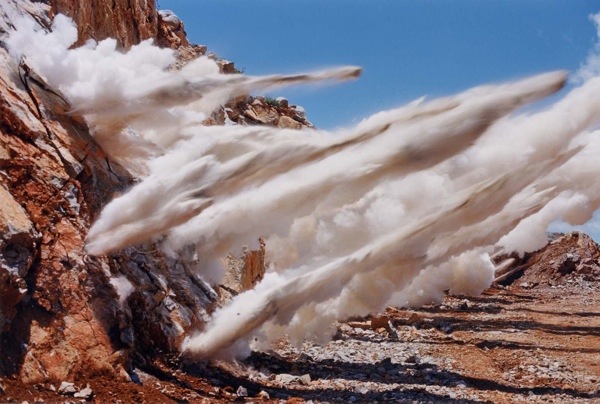 I came across the A BIRD/Blast #130 series earlier, and it's an amazing piece of visual poetry. There's the initial calm over this otherworldly place of bare rock and dust, a bird in the sky above.
And then it explodes, and it becomes even more unworldly.
Meanwhile, the bird veers from its course, apparently panicked by the explosion, and incredibly almost framed by the rubble.
A BIRD/Blast #130 is owned by SFMOMA, which wrote a really interesting piece about the series and Hatakeyama's technique, in which he works with blast engineers to place the camera as close to the blast as possible without it getting destroyed. He says:
I was moved by their ability to imagine in their brains how 2,000 tons of rock would break apart and then give me accurate advice. From having worked with the rock for so many years, they had gained a vision that I could never imagine. One could say that they were in dialogue with nature in the form of the rocks.